Kakaban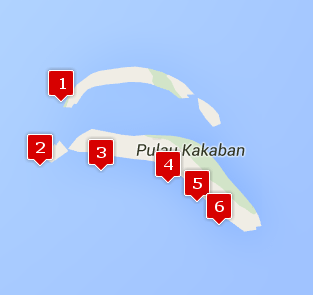 Kakaban island is part of the Derawan Islands, East Kalimantan, Indonesia. It can be reached about 20minutes boat ride from Maratua island. The island has an area of 774.2 hectares (1,913 acres). Its' limestone cliffs are covered with dense jungle right down to the water's edge. The wall drops to 180 metres (590 ft), and currents can be strong with upwelling, downcurrent and reversing directions. The most distinctive feature is the huge brackish water lake in the middle of the island teeming with non-stinging jelly fish. In the local dialect Kakaban means "hug" as the island hugs the lake from the surrounding seawater.
Kakaban Island: (VIP Hunt: Schools of Barracudas, Black Tip Sharks, Devil Ray, 4 types of non-stinging Jellyfish)
Dive Sites (labelled on map above):
West Point
Barracuda Point
Cabbages Coral
Sea Wall
Blue Light Cave
Gorgonion Forses
Barracuda Point
This point is not for the beginner and those who have weak legs, because of the strong current there. Again, you have to dive this point during the high-tide. The dive begins with moderate current but as you go round the corner, the current become stronger. It is recommended that you bring along a hook so that you can station yourself to observe the schools of barracuda and jackfish, rainbow runners, batfish and if you are lucky, you may see hammerhead sharks as well. You may also find large pelagics like whitetip sharks, leopard sharks, tuna and snapper. Because this is a deep dive and the strong current, you can have a 30 or 35 minutes bottom time only. Drift diving can be done with the help of a grab line permanently secured at 24 metres (79 ft) across a relatively flat area on the upcurrent side of the point. Visibility: 20 to 25 metres.
Sea Wall
The drop-off point is also a wonderful dive. The wall drops down to 250m, and abounds in colourful fish, seahorses, and corals.
Blue Light Cave
The cave starts at a crack at 2 metres (6 ft 7 in) deep and descends through a narrow chimney. At about 21 metres (69 ft) the chimney opens into a large cavern that extends for about 120 metres (390 ft). The exit is a long vertical crack in the wall at 44 metres (144 ft). The name of the cave comes from the blue light of the sea which is seen from the cavern.
"THE JELLYFISH LAKE" AT KAKABAN ISLAND:
The Jellyfish Lake is actually a snorkelling site (you won't be allowed to dive here). It is just 5 minutes away from the "Barracuda Point". There are two trails to get to the lake, the first one was built with wooden planks all the way to the lake. It goes up a small hill and down all the way to the lake which will take you 10 to 15 minutes by walking. The second trail at the back of the lake is slightly longer. You have to climbs up a small lime store rock hill and then walk along a small jungle track which is going gradually downhill to the lake. In a glance, it is at least twice the size of the "Jellyfish Lake" in Palau, Micronesia. The visibility was about 6 to 8 meters and there are all together 4 different types of jellyfish, which areCassiopeia Ornate, Mastigias Papua, Aurelia Aurita and Tripedalia Cystophora. These jellyfish are quite special; unlike their sea-living counterparts, they have been living in a lake, protected from their natural predators such as turtles and barracuda. Through time therefore, they have lost their ability to sting simply because they have had no need for them.
We conduct daily excursion to Kakaban subject to minimum 4 guests.
For diving ( Diver Package Guest ) /snorkelling ( Non-diver Package Guest ) activity following resort scheduled dive boat to Kakaban:
Rp.770,000 per person per trip (minimum 4 pax)
Above rates exclude Rental Equipment for both Divers & NON Divers (Snorkelling)
For Diver guest who purchased Non-diver package and wants to do diving at Kakaban following resort scheduled dive boat:
Rp.1,760,000 per person per trip (minimum 4 pax)
Above rates include usage of tank, weight and weight belt ONLY
Entry Permit Fee to Kakaban Island : The Indonesian Authority has started to impose a charge for entrance fee @ 25,000- for NON Indonesian and @Rp10,000- for Indonesian citizen per person per entry to Kakaban Island payable by all visitors.
In view of that, all visitors to Kakaban Island would have to pay the relevant fee direct to the resort accordingly.
Entry Permit Fees are payable by all guests direct to Maratua Paradise Resort in accordance with the number of visit to Sangalaki Island and / or Kakaban Island during guests' stay at the resort.