Diving in Maratua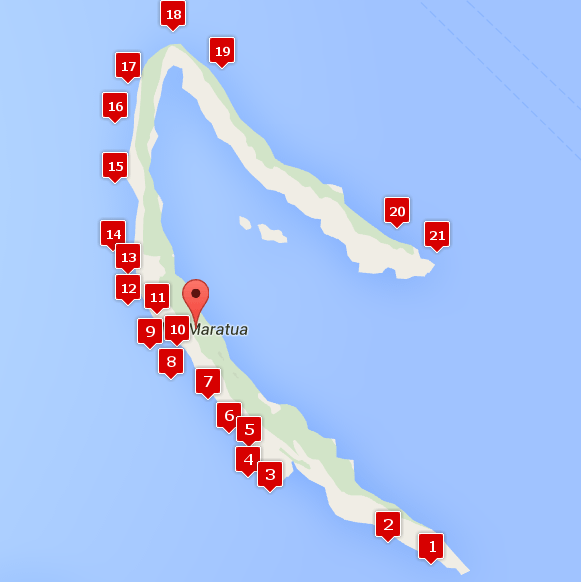 Maratua (VIP Hunt: Tresher Shark, Eagle Ray, Giant Grouper, Mandarin Fish, Grey Reef Sharks, School of Barracudas, School of Jackfish, Eagle Rays, Giant Grouper, Schools of Bumphead)
Dive Sites:
Batu Selatan
Coral Garden*
Tanjung Keramat
Turtle Traffic**
SouthFace*
Gusung Pal
Maratua Reef
Cabbages Coral
Sponge Reef*
House Reef**
Mid Reef**
Last Sand
Fuselier Paradise**
Hanging Garden
Eel Garden
Fantasy Wall
CCM Paradise
Light House
Gorgonzola
East Wall**
Channel *** (for advance diver above)
*Good **Very Good ***MUST GO
"THE CHANNEL" NEAR MABUCCO RESORT
This is perhaps one of the strongest current point among all. A hook is strongly recommended as the current can easily blow you away. To dive in this particular point, you must go when the tide begins to come up. So you have to station yourself at the junction or entrance to the channel at about 30 meters . There you have to hold on to something or use your hook to hook on some solid rock so that you can hang in there to observe the most exciting fish feeding. There you can see many grey reef sharks and white tips, big school of barracuda and jackfish, also you can see giant groupers, schools of filsiliers, surgeant fish, rainbow runners and if you are in luck , a big school of large size mullet fish. Again because of the depth you are staying to watch the action and the strong current, you have to let go after around 20 minutes and let the current drift you inside channel at a shallower depth and do your safety stop. [Visibility: 15 to 20 metres.]
"Splendid divesite. Literally an underwater cinema theatre!"
-JyChang (OWSI#343677)
THE "CABBAGE CORAL" REEF NEAR THE MARATUA PARADISE RESORT:
This point is just 2 minutes from the resort among the house reefs. This undamaged cabbage corals with the size of a football-field with the depth ranging from 5 metres to around 16 meters. As your go further out, the drop-off first go down to around 40 meters, then there in the next deep drop to more than 200 meters. You can spot a few turtles and sometimes eagle ray and even mantas here.[Visibility: 20 to 30 metres.] [Current: Mild.]
THE "EAST WALL"
This point as about 15 minutes from the Maratua resort. The story of these two pillars as told by the villagers who live nearby was the remains of a Japanese watch tower after it has been boomed during the Second World War. At this point, you can find perhaps the most varieties of Seafans and Black Corals. It begins at 45o down to about 30 - 40 meters, then the sharp, almost vertical drop-off to 70 meters. The barrel drum coral are huge. The Seafans began at around 25 meters up to around 40 meters and from 30 meters down, you will find plenty of huge Black Corals. This point is also called "Eagle-Ray" point, because eagle-rays are very often spotted while diving here. [Visibility: 30 to 50 metres.] [Current: Moderate.]
THE "LIGHTHOUSE" :
This point is about 20 minutes from the resort and is about 5 minutes from the "Twin Pillars". Here the drop-off slopes gradually to around 40 meters where you will find the sandy bottom. The current here is mild and you can see a big school of batfish and sometimes leopad shark at around 30 meters. There at the shallow 5 to 6 meters of water, you can see a lot of grouper and red snappers around. [Visibility: 30 to 40 meters.]
"HOUSE REEF" JUST AROUND THE FRONT OF MARATUA RESORT
It's best to dive at high tide because there current will be very slow. This is a good point to do early morning, sunset or night dive. You can see leaf fish, many kind of lionfish and crocodile fish. Ghost-pipe fish was said to be spotted by the resort dive master. [Depth: 2 to 5 metres.] [Visibility: 20 metres.]
"THE FIRST LAGOON", ONE OF THE HOUSE REEFS
It's just 100 meters from the resort and this point is good for night dives. It's a long semi-circle lagoon-shape. It begins with a sandy bottom where you can find a lot blue spotted sting-rays and a lot round-jellyfish. As you go along, you will find beautiful staghorn corals along the bottom. Other thing you can see at night including stick pipefish, sea snake and big moray eels. [Depth: 8 to 15 metres.] [Current: Mild.]
"THE SECOND LAGOON"
It's almost the same shape as the first lagoon which is next to each other. The only difference was that in this second lagoon, you find only beautiful Cabbage Corals and the depth range from 12 to 18 meters. This point is good for afternoon or sunset dives. During the day dive, you can see quite a few crab-eye gobby, nuddy branch, flatworm and other types of gobbies. [Visibility: 15 to 20 metres.] [Current: Mild.]
Dive Activities: 3-4 dives (1 Check Dive)
Dive Location: Maratua Island